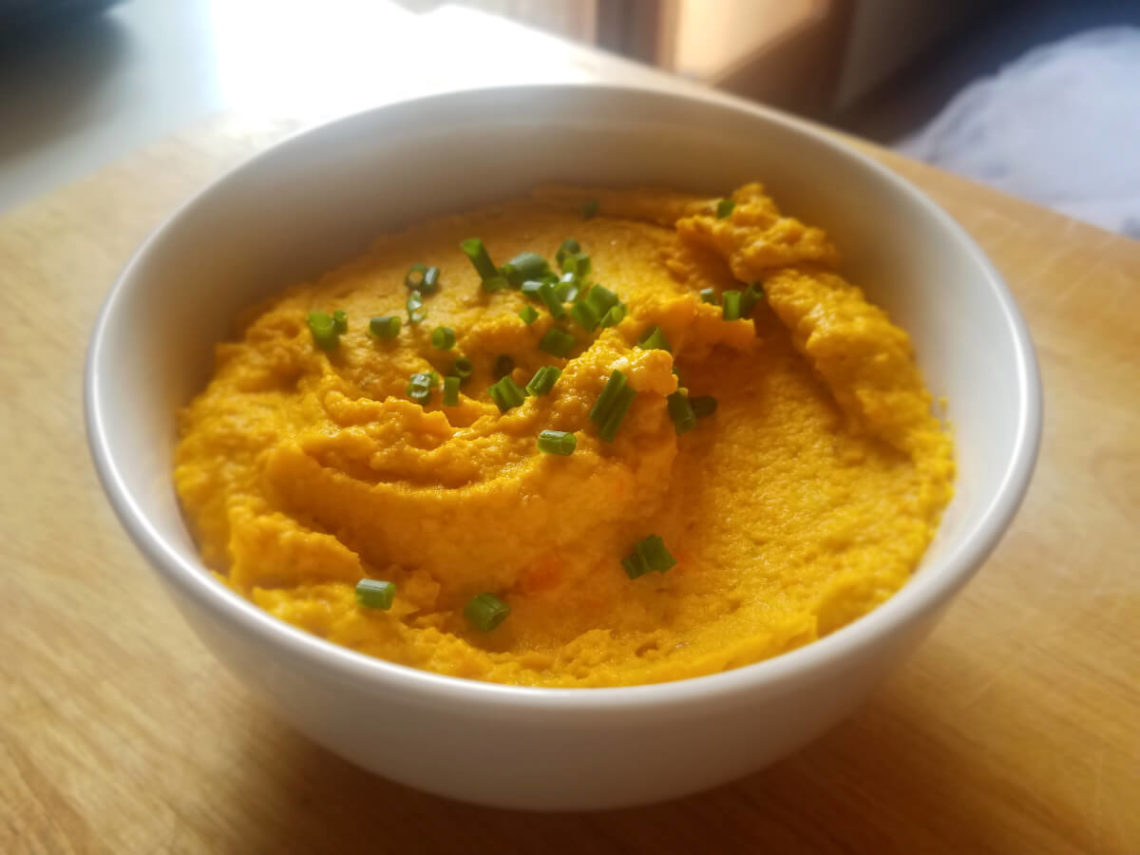 Maple Carrot & Cumin Hummus
I am without doubt the laziest recipe blogger in the world.  I have plans to change that, but so far so slow! Over the last few months I've promised so many people the recipe for my Maple Carrot & Cumin Hummus and it sadly kept getting shunted down the to-do list. But finally, here it is!  I absolutely love this recipe.  It's a standard homemade hummus with an inspired addition: carrots with whole cumin seeds and a drizzle of maple syrup, roasted until soft and gorgeously caramelized. And that colour!  You'll want everyone to try it and then you'll want to keep it all for yourself.
It doesn't matter if you use chickpeas that you have soaked and cooked yourself, or if you use chickpeas from a tin.  If I was splitting hairs I'd say that home cooked chickpeas have the edge here: they are usually slightly sweeter with a nuttier texture.  But I often use tinned chickpeas and the result is still delicious, so don't worry if you don't have time to prep your own.
Ingredients
300g carrots, peeled and chopped into 1cm chunks
1 tbsp cumin seeds
1 tbsp maple syrup
2 tbsp sunflower oil for roasting the carrots, plus 100ml for the hummus
100ml water
1½ tbsp tahini
1 clove garlic, crushed
2 tbsp lemon juice
¾ tsp salt
1 x 400g tin chickpeas, liquid drained off (approx. 240g drained weight)
Maple Carrot & Cumin Hummus Method
Mix the carrots, cumin seeds, maple syrup and the two tablespoons of oil together in a bowl. Spread out onto a baking tray lined with parchment and place in an oven preheated to 180°C. Roast for 40-45 minutes until the carrots are soft. It's recommended that you toss the carrots halfway the through cooking time to make sure they caramelise evenly. Set aside to cool.
Place the 100ml oil, water, tahini, garlic, lemon juice and salt in a blender and pulse until combined. Add the roasted carrots and continue to process until smooth.
Add the chickpeas and continue to process. If the hummus is too thick, you can add more water or oil to achieve your preferred texture and consistency. Oil will make the hummus creamier, but water is definitely the healthier option! You might also wish to add a bit more lemon, tahini, garlic or salt, so adjust as desired.
Garnish with some coriander leaves or finely chopped chives. The hummus will keep for up to five days if stored in an airtight container in the fridge.