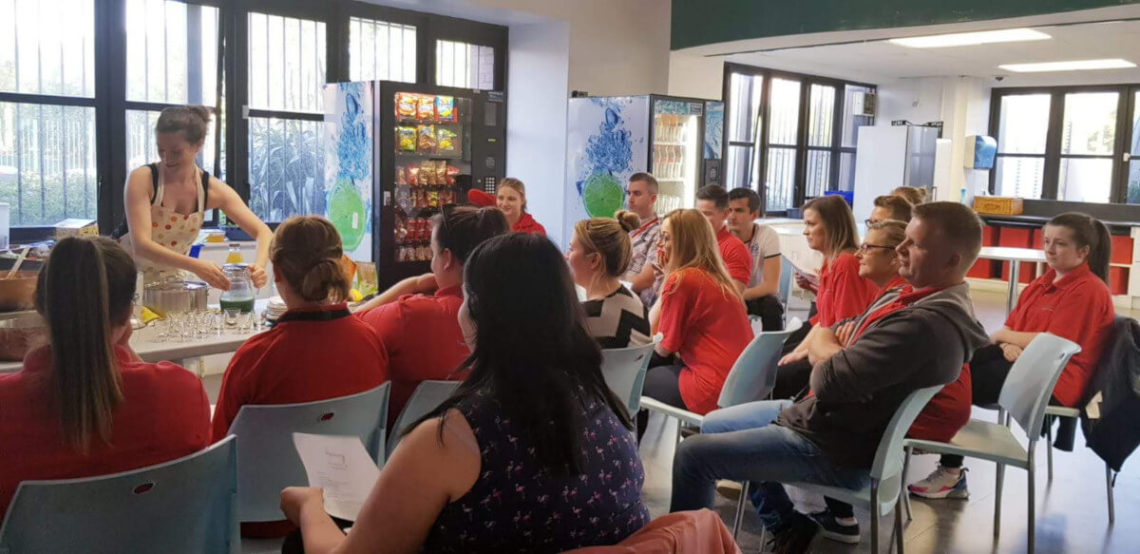 — healthy eating at work —
Regular exercise and a healthy diet can have a positive impact on our energy levels and mental health. We are becoming ever more aware of the link between the quality of food we consume, and our quality of life.  We know that healthier living means including more vegetables in our diet. However, reorganising our eating habits can be challenging, and it isn't always easy to know where to start.
 and that's where I come in
My passion is inspiring people to be more adventurous in the kitchen and helping them to improve the quality of their diet. I show people how to make simple changes that can have a significant impact on health and wellbeing. The focus of my demonstrations is simple, nutritious and tasty meal preparation. All ingredients used are widely available, and recipes have been developed with busy people in mind.
workshop format
Workshops are held at the company premises and tailored to meet the objectives of the organisation. Sessions include samples and lunch for all participants. If your company would like to try something new, check out the flyer or get in touch for more information.
"As a company with (1) a busy workforce and (2) a commitment to developing our employee well-being initiatives, a lunchtime cookery demonstration centred on easy and healthy meal preparation was a perfect fit. Claire was confident and engaging, answered questions and gave many practical tips. The event was well-received by staff. Some commented on how accessible the recipes were and many more resolved to try them at home. Others even expressed surprise at how much they enjoyed the event! Claire designed the event to suit our needs, and I would highly recommend her demonstrations as a staff engagement activity or as part of well-being programme."


– Sheenagh McCullagh, HR Director, GSLS