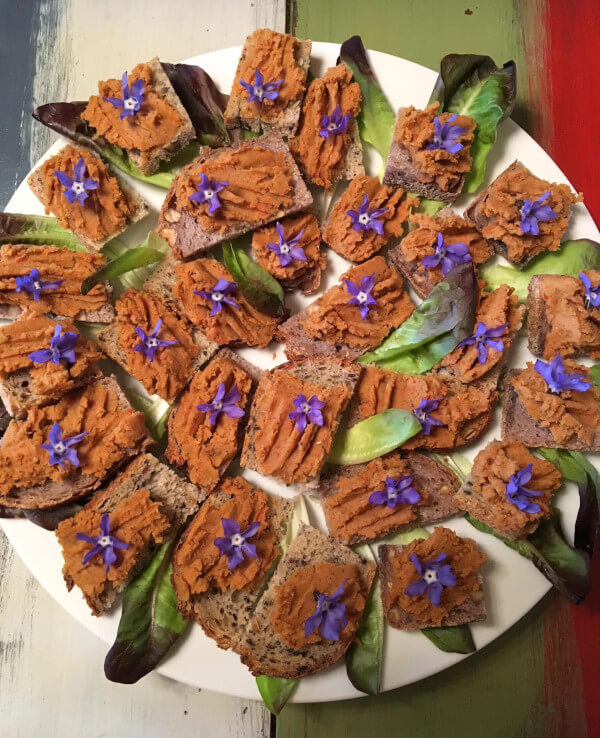 Red Lentil & Sun-Dried Tomato Pâté
It has been exactly a year since I moved to France, and I supposed I hoped I'd be well on my way to mastering the language by now. Not quite. Mais petit à petit! A couple of weeks ago I gave my lovely French teacher, Pascale, a pot of my red lentil and sun-dried tomato pâté. She later asked for the recipe, and yesterday surprised me with these beautiful photographs. It would be a shame not to share!
I made this pâté for the series of cooking demonstrations at Rockhill House last October. It's full of flavour, and if you follow the quantities exactly, should provide a smooth, lush spread that is consistently good every time. In the first photo Pascale uses it to top thin slices of walnut bread. In the second photo she's used it as a topping on fried potatoes. Both make for fantastic finger food. The pâté is also great as a protein-rich sandwich filler. Give it a try!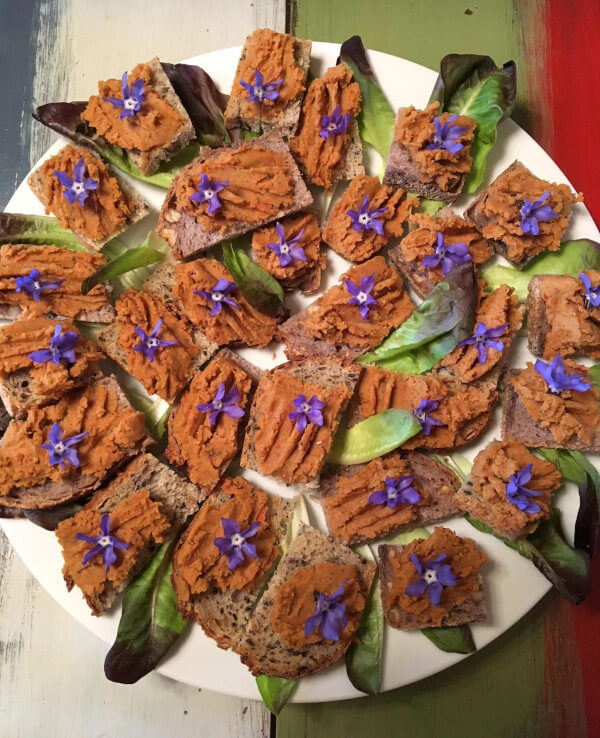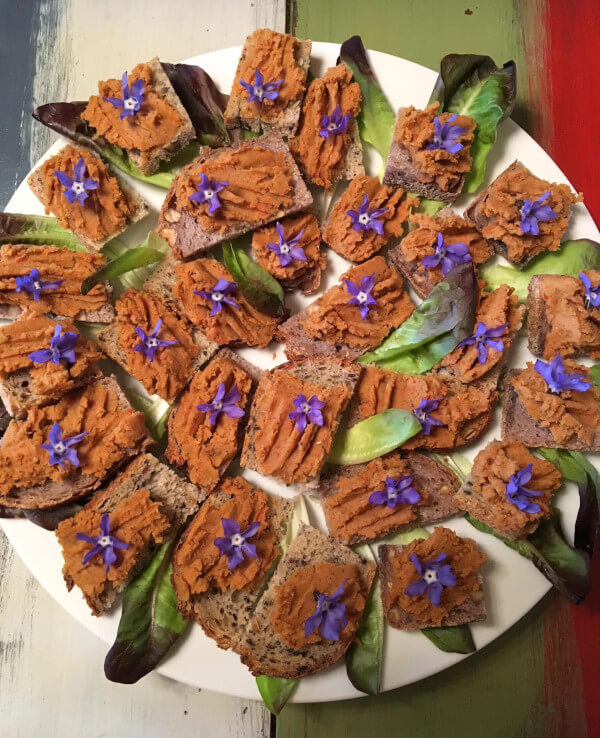 Recipe – Red Lentil & Sun-Dried Tomato Pâté
Ingredients
250g red split lentils, washed and drained
2 tbsp sunflower oil
1 onion, chopped
2 cloves garlic, chopped
1 level tsp ground cumin
1 level tsp smoked paprika
1 level tsp ground coriander
1 level tsp sumac
1 level tsp salt
80g sun-dried tomatoes
Method
1. First put the washed lentils in a large pan and add just enough water to ensure that the lentils won't stick to the bottom of the pan when it's brought to the boil. The aim is to cook the lentils in the minimum amount of water needed. Bring to the boil while stirring constantly so that all the lentils are cooked evenly. Remove from the heat and set aside to cool.
2. Next, heat the sunflower oil in a frying pan, add the onion and garlic, and cook for 3-5 minutes. Then add the spices and salt and stir in well. Cook for another 5 minutes, stirring frequently.
3. Use some kitchen paper to remove the excess oil from the sun-dried tomatoes before slicing.
4. When the lentils and spiced onions are cool, put them in the food processor along with the sun-dried tomatoes and process until smooth.
5. Pour the mixture into an airtight container and store in the refrigerator for up to one week. Chill before serving.