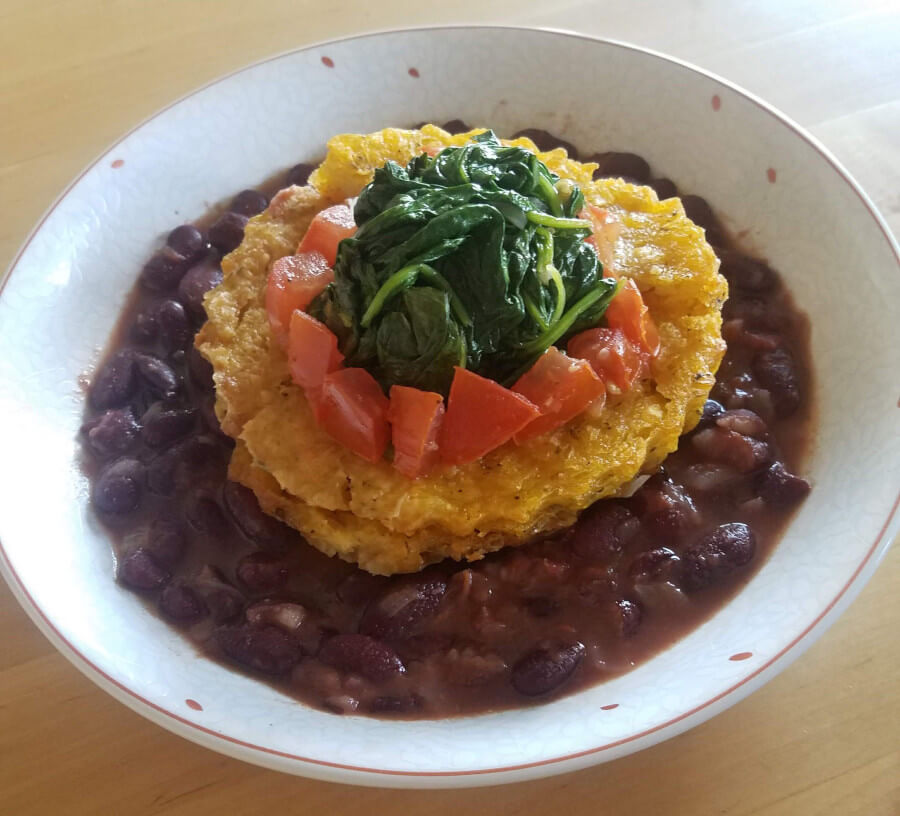 On a sunny day in February I set off for Malawi, where I would spend a little over three weeks leading a research project for Concern Worldwide. As with anywhere I travel, I'm always curious about the food culture, local ingredients and regional specialities, and Malawi did not disappoint. Today's recipe – bean stew with polenta and braised green vegetables – was inspired by the delicious, flavourful meals I enjoyed during my stay. But before I get to that, a bit of background to the trip…
Malawi is increasingly feeling the effects of climate change and is particularly susceptible to drought and extreme weather patterns. This can have a huge impact on the livelihoods and quality of life of those who live in these regions. Most rural families grow their own food, but even when the harvest is good, it's never enough to last the year, and families find it difficult to have enough food to meet their basic energy needs, let alone food that provides the vitamins and minerals required for a healthy life. I was tasked with calculating the yearly cost of a nutritious diet for a family of five using only locally available foods, and looking at the various barriers preventing families from having adequate nutrition. This entailed visiting markets, recording food prices and speaking to people in rural communities about what they grow and how they make do when there is not enough.
The markets – bursting with produce – give little indication of the hardship endured by the millions of Malawians who survive for months at a time on only one meal per day. While I marvelled at paying as little as 10, 20, 30 cents for fresh guava, avocados and pineapples, it struck me that even these prices are beyond the reach of many. Dismay soon gives way to utter frustration when you consider just how much of this produce goes to waste every year (a complex problem for another day and another blog!). None of the foods we found at the markets are imported – all are produced within the country, and many are grown locally. Despite the worrying statistics on malnutrition, the diversity of foods available at the markets is sufficient for a nutritious diet. The issue, therefore, is not a lack of nutritious food; it's a lack of income.
Malawians have a range of staple foods, including millet, sorghum, rice, sweet potatoes, green bananas and maize. Not all of these foods are found in every region, but maize is eaten almost everywhere. Dried maize is ground into flour and most commonly eaten as nsima – maize flour boiled in water and served in stiff mounds. Legumes including cowpeas, pigeon peas and red beans are found at most markets, and often feature as the main source of protein in a meal. Animal source foods found at the market include eggs, goat meat and fish. A good variety of vegetables can be found, but many are seasonal. Those most commonly available include onions, okra, pumpkin, eggplant, and leafy green vegetables including cabbage, amaranths, cowpea and bean leaves, mustard leaves, sweet potato leaves, pumpkin leaves, okra leaves and cassava leaves. Tomatoes, cucumber and groundnuts are also plentiful. Garlic, ginger, chillies and lemons are all popular condiments in Malawian cooking. Mango trees grow freely, producing an abundance of mangoes ready for picking between December and March. Other wild fruits, mushrooms and highly nutritious moringa leaves are foraged at various other times of the year.
The Food!
Today's recipe – bean stew with crispy polenta and braised greens – is comprised of ingredients found at any Malawian market and is my take on the delicious meals of nsima, beans and greens that sustained me for most of my stay. Here goes…!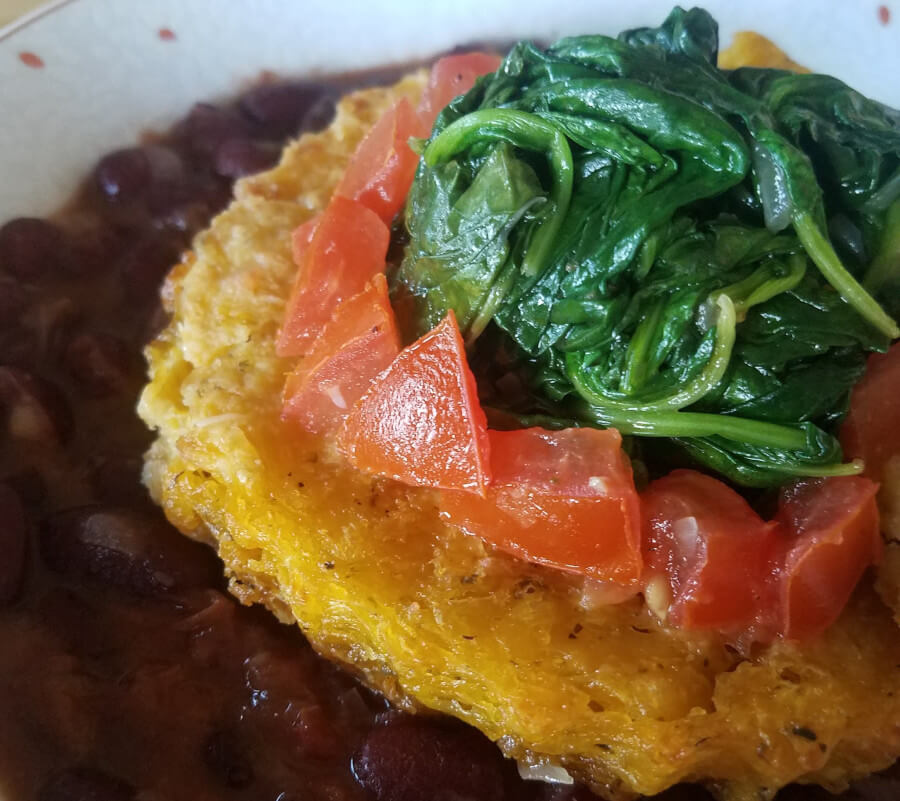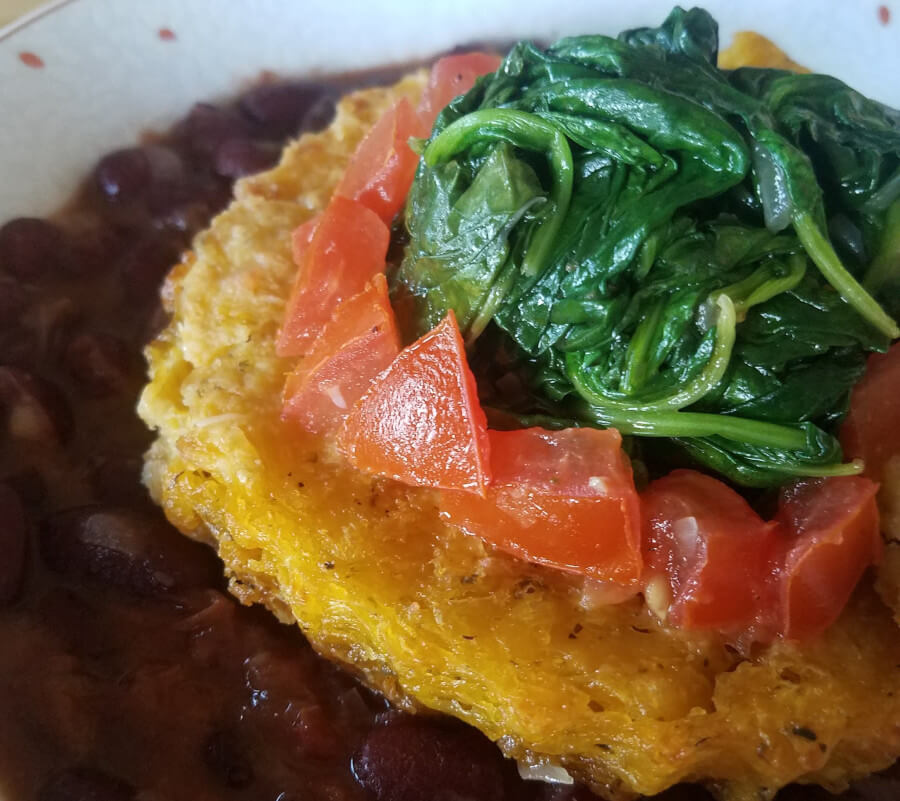 Nsima is typically made from white maize flour, which you can use in this recipe if you can get your hands on it, but the maize meal we get here (commonly known as cornmeal in the US or polenta in Europe) is of the yellow variety. As you can see from the photographs it's a very colourful dish (though perhaps not the most appetising looking!). But it's a very substantial meal, and what it lacks in elegance it more than makes up for in taste. The polenta is crispy on the outside, soft and deliciously garlic-and-herby on the inside, and the beans are tender in a rich, finger-licking-good sauce. For the veg, I would prefer to have used spring greens but as I couldn't source them spinach was a fine substitute.
The dish is quite simple to make but it takes time to prepare. The good news is that both the beans and polenta can be prepared in advance, and both keep for up to five days in the fridge. If you find you have any leftovers, the beans make a great alternative to the out-of-the-tin beans and toast, or blitzing them in the food processor will give you a really gorgeous bean pâté. Best of all, they freeze like a dream. The polenta is extremely versatile and works well in a multitude of dishes. In this recipe the polenta is sliced thickly, brushed with a little oil and baked or fried until the edges are crispy. However, if you're feeling indulgent you could cut the polenta into chips and shallow or deep-fry (a great take on beans and chips!).
You'll need dried red kidney beans for this recipe – beans out of a tin just won't do. This is because most of the flavour comes from the juice when the beans are boiled in water. The beans need to be soaked overnight (at least eight hours) in plenty of water. The actual cooking time is about two hours, but the preparation is very simple and the beans don't need too much attention while they're bubbling away.
Recipe
We'll start with the polenta. For the ingredients you'll need:
Polenta
3 tsp vegetable bouillon powder dissolved in 1 litre water
50ml extra virgin olive oil
3 large cloves garlic, finely chopped
2 whole dried chilli peppers (optional)
1 tsp herbs de Provence (or dried herbs of your choice)
200g coarse polenta meal
1 tbsp sunflower oil (for greasing a baking sheet)
Line a tin or casserole dish with baking parchment but leave about 6cm of paper coming up the sides of the tin. The dimensions of the tin don't matter too much as you can slice the set polenta into slices of whatever thickness you prefer before baking or frying.
Place the stock, olive oil, garlic, chilli peppers and dried herbs into a pan and heat until simmering.
When the water is simmering rain in the polenta while stirring constantly. If the water is too hot the polenta will very quickly go lumpy. But don't worry, if this happens remove the chilli peppers and use a hand blender to make the mixture smooth (just remember to add them again when you're finished!)
Cook the polenta on a low heat for a further 30 minutes, stirring every few minutes to ensure that it doesn't stick to the bottom of the pan. If you're in a rush you could take the polenta off the heat after 10 minutes, but I prefer to leave on the heat a bit longer to make sure the garlic and herbs have a chance to cook and infuse the mixture.
Immediately after taking off the heat, pour the mixture into the lined tin/dish and smooth out using a greased spoon. If this is proving tricky try rubbing some oil on the palm of your hands and smoothing out the mixture (literally) by hand. Leave to cook before covering with cling film and transferring to the fridge. Keep in the fridge for at least two hours to give the polenta time to set.
After taking the polenta out of the fridge, pull the parchment away from the sides and place the block onto a large chopping board. Cut into the desired shape. For this dish I recommend cutting each slice about an inch thick because it will lose some of its bulk while it's cooking. The polenta can be finished by pan frying or baking. Baking is a bit healthier, but you'll still need to use some oil to coat the baking sheet so that the polenta doesn't stick. Baking is also more convenient as you can just leave it in the oven to do its thing, but you really can't beat the delicious crispy skin you get from pan-frying. So, here are the steps for each method…
BAKING: If baking, allow up to 40 minutes to cook before you're ready to serve. Preheat the oven to 220°C. Line a baking tray with baking parchment (make sure you use parchment and not greaseproof paper as the polenta will stick!) and grease the sheet with sunflower oil. (Don't use olive oil as it has a lower smoke point.) Lay the slices of polenta on the tray and lightly brush the top of each slice with oil before putting the tray in the oven. After 15 minutes remove from the oven and use a metal slice to flip the polenta onto the other side. Return to the oven for another 15 minutes. The edges of the polenta should be golden but be careful that they do not burn. If you prefer your polenta crispier leave it in the oven for an extra ten minutes.
FRYING: Add a little sunflower oil to a pre-heated non-stick pan and fry the polenta on both sides until golden. When finished, place the polenta on sheets of kitchen paper to soak up any excess oil. The polenta is now ready to serve, but it can be kept warm in the oven if you are still preparing the greens or beans.
Beans
For the beans you'll need:
300g dried red kidney beans, soaked in water overnight in a saucepan
1 medium onion, finely chopped
3 tomatoes, finely chopped (about 400g)
2 tbsp sunflower or rapeseed oil
1 tsp salt
Freshly ground black pepper to taste
Rinse the soaked beans in cold water until the run-off water is clear.
Put the saucepan on a high heat and boil vigorously for 10 minutes with the lid off. Use a spoon to remove any grey foam from the top of the pan. The beans must always be covered with water, so it might be helpful to keep a kettle full of water next to the cooker so you can top up as needed. It's better to use hot water so that the temperature in the pan doesn't drop every time you add water.
After 10 minutes turn the heat down to medium. Cover and cook for 40 minutes, checking every so often to make sure that there is enough water in the pan.
After 45 minutes stir in the chopped onion and tomato, salt and oil. Cook for another 30-60 minutes with the lid off, always making sure there is enough liquid in the pan. Various factors can impact the cooking time, so try a spoonful of beans after 30 minutes. The beans are cooked when they after tender but not falling apart. During the last 30-60 minutes of cooking time the liquid begins to thicken up. Add whatever water you need to give the 'gravy' to the consistency you prefer.
The beans are now ready to serve, although you might like to season with a crack of black pepper.
Green leafy vegetables
As I mentioned, my favoured vegetable in this dish is spring greens, but spinach also works well. In Malawi, green leafy vegetables were usually cooked with onions and tomatoes, so in keeping with the theme, here is my suggested method of preparation.
1 tsp oil
½ onion finely chopped
1 tomato, chopped
200g spinach leaves Salt and pepper to season
Warm the oil in a pan and sauté the onion on a medium-low heat for 5-7 minutes until soft.
Add the tomatoes and spinach leaves and continue to toss so that spinach leaves wilt evenly.
Season with salt and pepper and serve immediately.
If using spring greens…
Remove the stalks, slice in fine ribbons lengthways, then roughly chop widthways. Add to the pan with the onion, along with a little water to allow the greens to steam in the pan. When the water has evaporated, stir in the chopped tomatoes. Provided the greens are almost cooked when the water has evaporated, add a teaspoon of oil and fry them off to finish. Season with salt and pepper and serve immediately.
So that's it for this week… if you have any questions regarding the recipe feel free to drop me a line. Happy cooking!